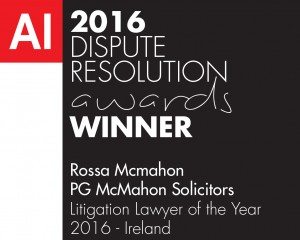 We are delighted to have been announced as the winner of the litigation lawyer of the year award for Ireland in this year's Acquisition International Dispute Resolution Awards.
We have always prided ourselves on our service to clients in our court work and have had a particular strength in personal injuries claims arising out of in road traffic collisions and workplace accidents going back to our beginnings over 50 years ago.
However, we have also had significant successes in employment law claims, family law and complicated cases involving intellectual property, shareholder disputes and other commercial issues. We have acted for clients in a number of cases which set important legal precedents, including in the areas of arbitration and defamation. We continue to act in complicated and novel cases including proceedings involving the DePuy product recall, the collapse of Setanta Insurance and large probate claims involving cohabitants brought under recent laws.
Over the past 18 months PG McMahon Solicitors has undergone a number of important changes including a significant investment in IT systems, rebranding and launching a new website, all of which have helped improve the service the firm provides to clients. This has helped secure our litigation practice and ensure continued work on interesting cases.
Commenting on the awards, Acquisition International coordinator Jonathan Hicks said:
With these awards we highlight the hard work and dedication undertaken by expert litigators, lawyers, arbitrators and everyone in between who is involved in resolving disputes. I am exceptionally proud to turn the spotlight on our deserving winners and wish them every success in the future.