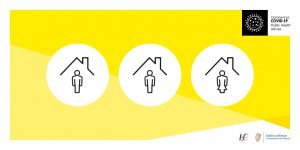 Our solicitors continue to be available to provide services to clients throughout the Coronavirus Pandemic.
We are available to see clients when necessary but due to current restrictions physical appointments will only be possible where strictly necessary. Therefore, priority will be given to consultations by telephone and online meeting services.
While some of the public health measures introduced during the Coronavirus Pandemic are in the process of being relaxed, the following measures will be in place for the foreseeable future in the interests of protecting the health of our clients and staff :
Our office is not open to the public and you cannot be admitted without appointment.
Client should not arrange or attend an appointment if they are or may be ill.
When attending for an appointment please arrive at the exact time arranged as you will be admitted at that time and waiting facilities in reception are not currently available.
Follow all internal guidelines and general public health guidelines by using hand sanitiser; observing safe distancing; avoiding contact with others.
Meetings cannot exceed 15 minutes.
Please remember to bring your own pen to your meeting if you will be signing documents.
Our solicitors remain fully contactable as follows:
call 069 62200
email

[email protected]

fax 069 29111
send a text message with the word LAW followed by your message to 51772 (we won't use your number for marketing purposes).