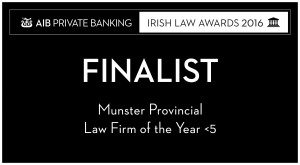 We are honoured to have been named as a finalist in the Irish Law Awards this year.
According to the organisers:
The 2016 finalists for the AIB Private Banking Irish Law Awards have been announced and leading law firms, legal practitioners and in-house legal teams across Ireland have made the shortlist. Now in its fifth year, the awards commend excellence in Irish law and recognise the outstanding achievements and exemplary practices of the Irish business law community.
The awards take place on 6 May 2016 at a ceremony in Dublin.